18th of May 17h30-19h00 – "Virtual Networking – Meet the new CCSF members"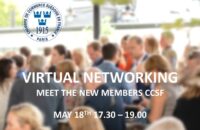 It is time to meet and network again!
This event is for our new and old CCSF members, to give you the opportunity to meet each other and our board members.
We will also discuss your needs and expectations on the Chamber's services and activities in the future.
The connection link (Zoom) will be sent to you later.
As we have new members that do not speak French, the event will be held in English.
(Only CCSF members can attend)
To register: https://lnkd.in/gz2DRVg
Start:
1970-01-01 00:00
Slutar:
1970-01-01 00:00
Anmälan