French-Swedish Business Day II
In the wake of the Swedish Presidency of the Council of the European Union the first six months of the year, and following high-level exchanges between Sweden and France, the next edition of the French-Swedish Business Day will take place in Paris on December 4.
On the theme "Strategic innovation collaborations for a competitive Europe" in the context of the Strategic Innovation Partnership Act signed by Sweden and France in 2017 and in the process of being reviewed, a high-level Conference and a French-Swedish Tech & Innovation Exhibition are being organised, followed by a high-level networking dinner with remittance of the Price of Excellency award, distinguishing Swedish companies for their exceptional performances on the French market.
Focus areas include security and defence, energy development, electrification, forest resources, mobility, resilience, digitalisation, environmental, social and regulatory challenges. Technology developments, skills and future talent needs will be an integral part of the program.
The event aims to promote Swedish exports, investments and Swedish impact business in France by creating a platform that spreads knowledge about Swedish companies, the Swedish brand and values in order to contribute to a stronger economic, political, social responsibility and cultural exchange between Sweden and France. This occasion offers an excellent opportunity for high-level networking with decision makers and entrepreneurs to develop Swedish-French partnerships, create new businesses and further trade relations between France and Sweden in both directions.
This is a Team Sweden France project, organized by the Swedish Chamber of Commerce in France in collaboration with the Swedish Embassy, Business Sweden, the French Embassy and Business France in Sweden, within the context and in furtherance of the Innovation Partnership Act entered into between France and Sweden.
4th of December 2023 French-Swedish Business Day II
13h00-17h30 High level Conference – French-Swedish Business Summit "Strategic innovation collaborations for a competitive Europe"
17h30-20h00 French-Swedish Tech & Innovation exhibition – Demonstration of innovations from the traditional industrial world and from start-ups of the new economy
20h00-23h00 Networking evening Soirée Franco-Suédoise: Dinner conceived by a Swedish chef , Innovate & Transform with Deep Tech – Start-up pitches, Prix d'Excellence award ceremony, Sankta Lucia
Venue: Le Pavillon Vendôme Paris –  the historic landmark of Banque de Suède et de Paris, created in 1913, later acquired by the Swedish businessman Ivar Kreuger, is at the origin of many of our large Swedish multinationals of today and a living legend of Swedish company presence in France.
Download the presentation and programme here: French Swedish Business Day II
For more information about partnership packages and individual participation, download our offer here
To purchase tickets for the conference and Exhibition only, please click here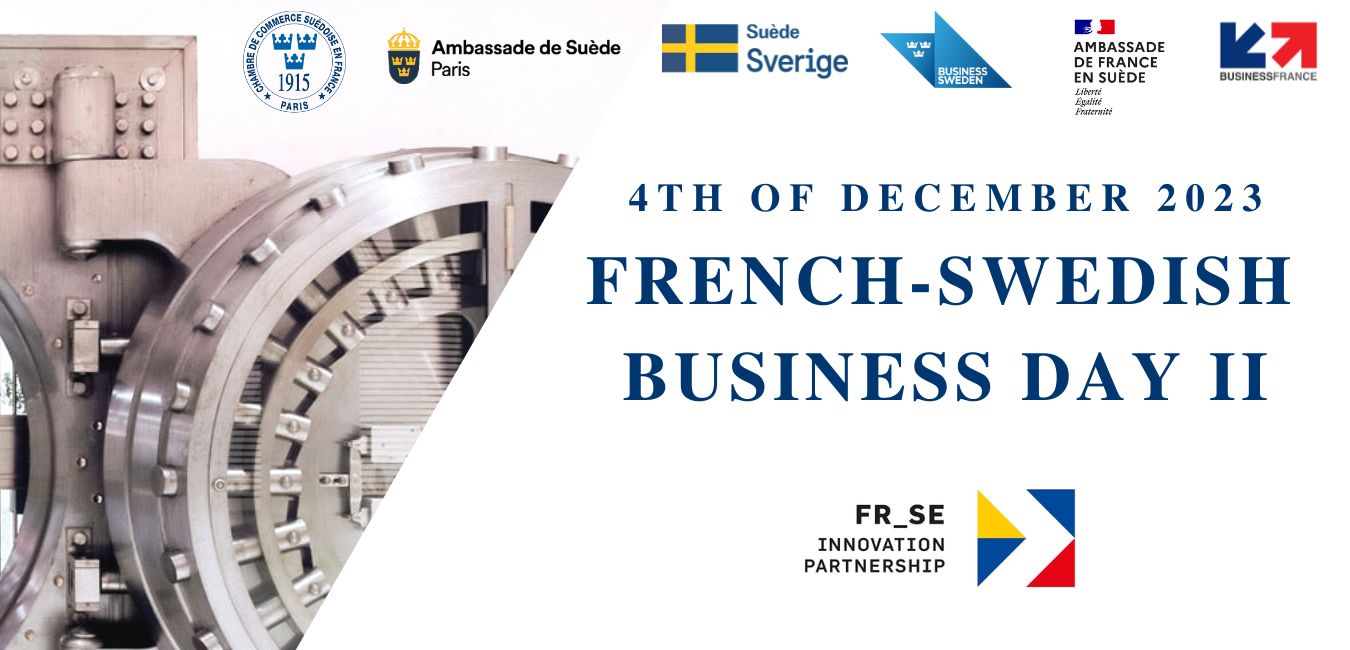 Start:
1970-01-01 00:00
Slutar:
1970-01-01 00:00
Anmälan