Young Professionals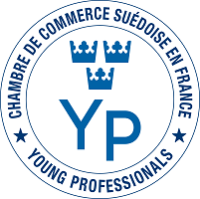 In 2017, the JCC changed its name to Young Professionals (YP) – the network for young entrepreneurs ans professionals in Paris!
The Young Professionals (YP) is a section of the Swedish Chamber of Commerce in France (CCSF), designed for young entrepreneurs and professionals between the ages 20 to 35, who have a link to/interest in Sweden. The objective is to unite young workers in a friendly and positive setting so that they can exchange experiences, network, meet representatives of the many member companies of the CCSF and other young professionals etc.
As a YP member you benfit from:
Invitations to all the Swedish Chamber of Commerce's activities for free or at a lower cost, such as workshops, conferences, seminars, afterworks, traditional Swedish holiday parties (midsommar, crayfish party) etc.
The possibility to learn, exchange and share your experiences about the French-Swedish business relations and management
A unique French-Swedish network
A monthly newsletter with news regarding our members, business activities, and the French-Swedish relations
Access to open vacancies within the CCSF network
Membership fee: 58€ TTC
For more information, please contact info@ccsf.fr or call us on: + 33 (0)1 44 43 05 22.
Start:
1970-01-01 00:00
Slutar:
1970-01-01 00:00
Anmälan