Soirée Glögg YP
Soirée Glögg
10th of December 2021, 19h00

Looking for some warmth in the winter cold? Look no more!
In the spirit of Christmas, CCSF and Young Professionals invites you to the annual "Soirée Glögg". In partnership with IKEA, this evening will offer the delicious mulled wine (glögg) and Swedish Christmas accompaniments. Join us for this unforgettable networking evening.
When? 10th of December, 19h00
Where? CCSF, 39 Avenue Pierre 1er de Serbie, 75008 Paris
For registration, click here
Please make sure to arrive between 19h00 and 20h00.
The EU's COVID-19 passport is necessary to attend this event.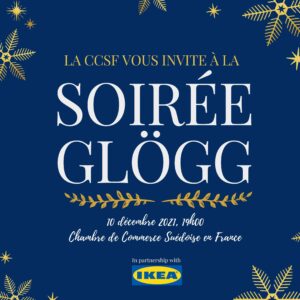 Start:
1970-01-01 00:00
Slutar:
1970-01-01 00:00
Anmälan