"The advantages of diversity and inclusion in the corporate world" – Sofia Falk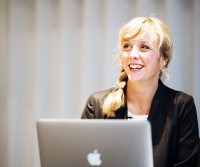 "The advantages of diversity and inclusion in the corporate world"
CCSF in partnership with The Swedish Embassy are pleased to invite you to a conference with Sofia Falk, founder and creative director of We are the StoryDoers.
Monday 7th of March 19h00
We are the StoryDoers, formerly Wiminvest, is a consultancy firm that helps large corporations to address undiversified corporate culture and to upgrade and "genderfy" their strategies, processes and routines.
Sofia Falk will explain why diversity and inclusion is important in the corporate world and how it can be achieved using easy, applicable solutions. Sofia Falk believes in rewriting the processes and routines that are not up-to-date in business by using a diversity and inclusion lens. She does this by exposing where biased perspectives and preferences are preventing the business from being successful and inclusive. We are the StoryDoers makes it possible to harness diverse brainpower so that it matters for the bottom line of a company.
Sofia Falk has been awarded several titles by Swedish business publications: "a top 100 supertalent in Sweden", "One of Sweden's Super Communicators", and "Sweden's most stubborn woman in business". She was appointed the advocate and national representative of the EU-initiative "Equality Pays Off" for Sweden. She has been an advisor to the Swedish Government, and has moderated workshops with the Nordic and Baltic heads of state and the British Prime Minister about getting more women into leading positions. She has also been part of a reference group for Hillary Clinton's international council for female entrepreneurs and leadership.
Teasers: https://www.youtube.com/watch?v=1cZ4OMU15QY
https://www.youtube.com/watch?v=DrE7ZSbUKjk
Venue:
Swedish Chamber of Commerce in France
39, avenue Pierre Ier de Serbie, 75008 Paris
The event will be held in English and is followed by a cocktail.
Please note that your registration is binding and that the last day to sign up is the 3rd of March 2016

Start:
7200-12-10 14:57
Slutar:
4400-12-10 14:57
Anmälan