Webinar and Q&A on leading remote teams and successful online collaboration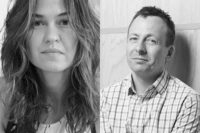 31 March, 12:00am – 13:00pm
Zoom webinar, London
Welcome to this webinar and Q&A on leading remote teams and successful online collaboration, featuring Nick Wright, Managing Director at Hyper Island and Gabriela Triffiletti, Learning Designer and Programme Leader for the Hyper Island Masters in Digital Management.
When remote work plans are put in place they tend to focus primarily on the technical side of supporting individuals. An equally important part of working remotely is redesigning all those in-person interactions for a greater, more purposeful digital experience. At this webinar, Nick and Gabriela will be sharing some top tips and tools for leading remote teams and supporting successful online collaboration and facilitation. It will draw on their experience of designing many remote experiences for clients and students, and training over 10,000 remote leaders to-date.
Hyper Island is a school and consultancy, focusing on digital mindsets and skills, culture change, innovation and upgrading your organisation's core skills for the 21st century.
Nick Wright is the Managing Director of Hyper Island UK. Nick brings first-hand executive level management experience of leadership and organisational change, from public sector and commercial SMEs to large, complex group organisations.
Gabriela Triffiletti is a learning designer and Programme Leader for the Hyper Island Masters in Digital Management. She fundamentally believes in a collaborative creative process empowers teams to challenge ideas and ultimately impact society and our world.
Agenda 
12.00 Welcome
12:05 Presentation
12.35 Q&A
13.00 End of webinar
When registering, enter that you are a CCSF member and more information will be sent to you about how to connect to the webinar.
Start:
1970-01-01 00:00
Slutar:
1970-01-01 00:00
Anmälan