Wednesday, December 15th, 2021
---
French-Swedish Business Day 2021
In the presence of HRH Crown Princess Victoria of Sweden, French-Swedish Business Day aims to promote Swedish exports, investments and Swedish impact business in France. It offers a platform to spread knowledge about Swedish companies, the Swedish brand and values in order to contribute to a stronger economic, political, and cultural exchange between Sweden and France. This occasion offers an excellent opportunity for high-level networking with decision makers and entrepreneurs to develop Swedish-French partnerships, create new businesses and further trade relations between France and Sweden in both directions.
This was a Team Sweden project, organized by the Swedish Chamber of Commerce in France, the Swedish Embassy and Business Sweden with the support of the French Embassy in Sweden and Business France.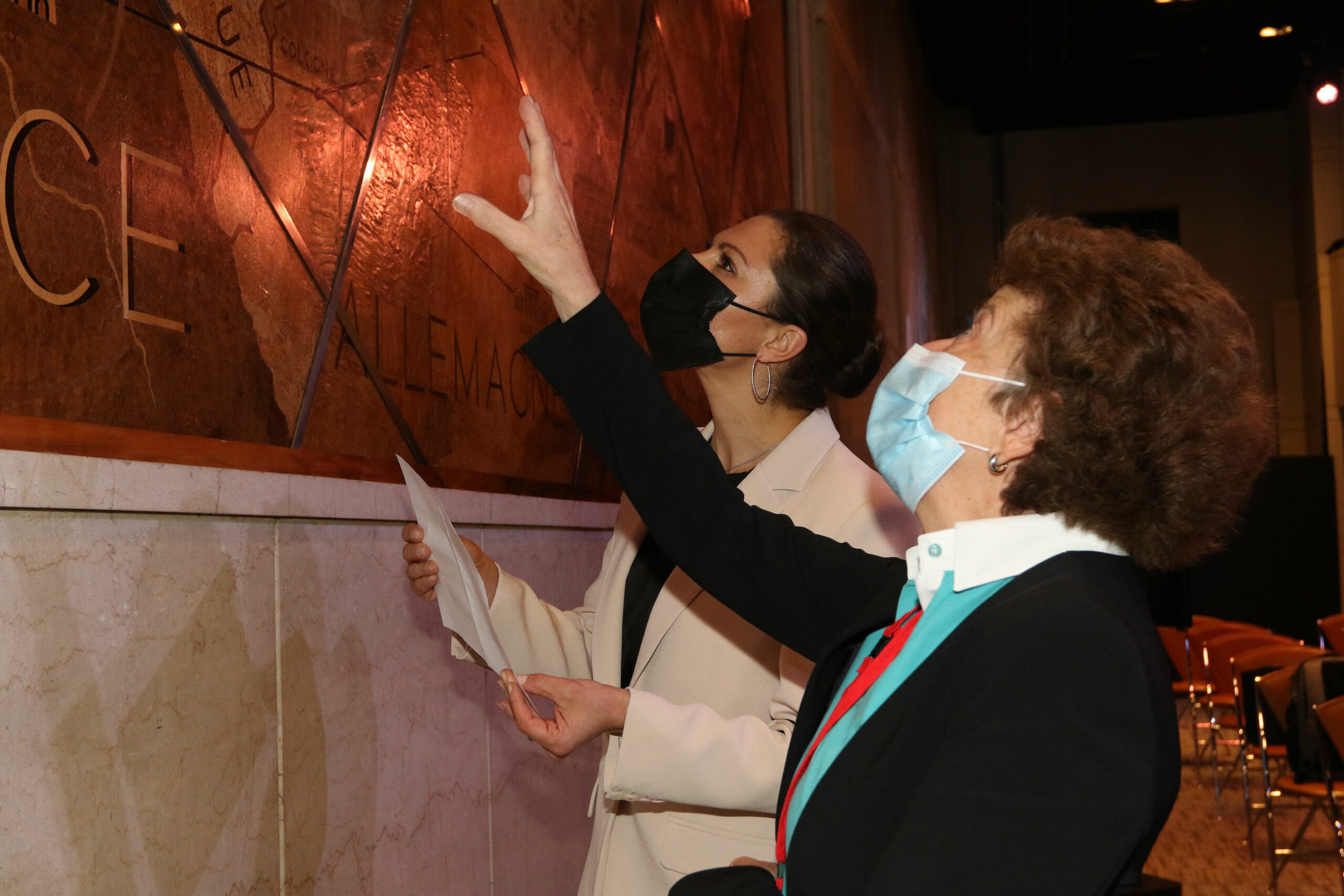 French-Swedish Business Day took place at Le Pavillon Vendôme, the historic landmark of Banque de Suède et de Paris that was created in 1913 and later acquired by Ivar Kreuger, famous Swedish businessman at the origin of many of our large Swedish multinationals of today. Banque de Suède et de Paris remains an iconic symbol for Swedish companies and for French-Swedish businesses. The vault rooms are still in place and so are the masterpieces of artist Ewald Dahlskog, Swedish painter, ceramist, designer, and decorator of the art deco period, who created three famous frescoes along the top room wall, at the request of Ivar Kreuger.
French-Swedish Business Summit on the Decarbonisation of the Economy
The day started with a high level conference on the climate goals and recovery needs, focusing on innovation with new technologies and solutions, responsibilities, challenges, and opportunities for companies in a circular economy and a world to be decarbonised.
The conference was opened by HRH Crown Princess Victoria of Sweden and was followed by inspiring keynote speakers like Anna Borg, CEO & President Vattenfall and Bruno Le Maire, Minister of the Economy, Finance and the Recovery, as well as high level and inspiring panel discussions.
To visit the official website, click here
To rewatch the livestream of the conference, click here
Panel Discussion 1 – The Economic Value Chain and Circular Economy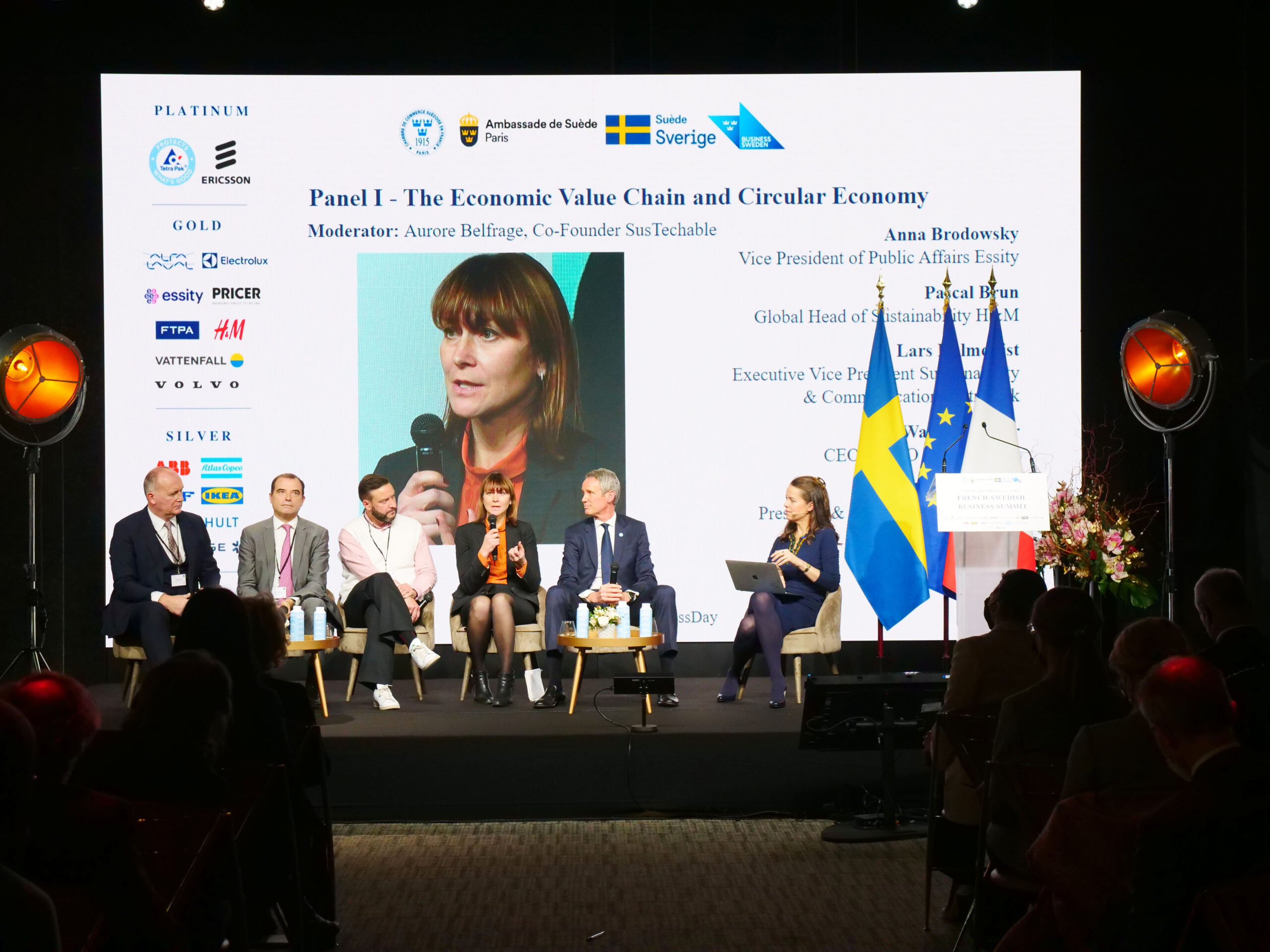 Moderator: Aurore Belfrage, Co-Founder SusTechable
Anna Brodowsky, Vice President of Public Affairs Essity
Pascal Brun, Global Head of Sustainability H&M
Lars Holmquist, Executive Vice President Sustainability & Communications Tetra Pak
Walter Kadnar, CEO & CSO IKEA France
Pierre Perron, President & CEO Electrolux France
Panel Discussion 2 –  Mobility of the Future and Digitalisation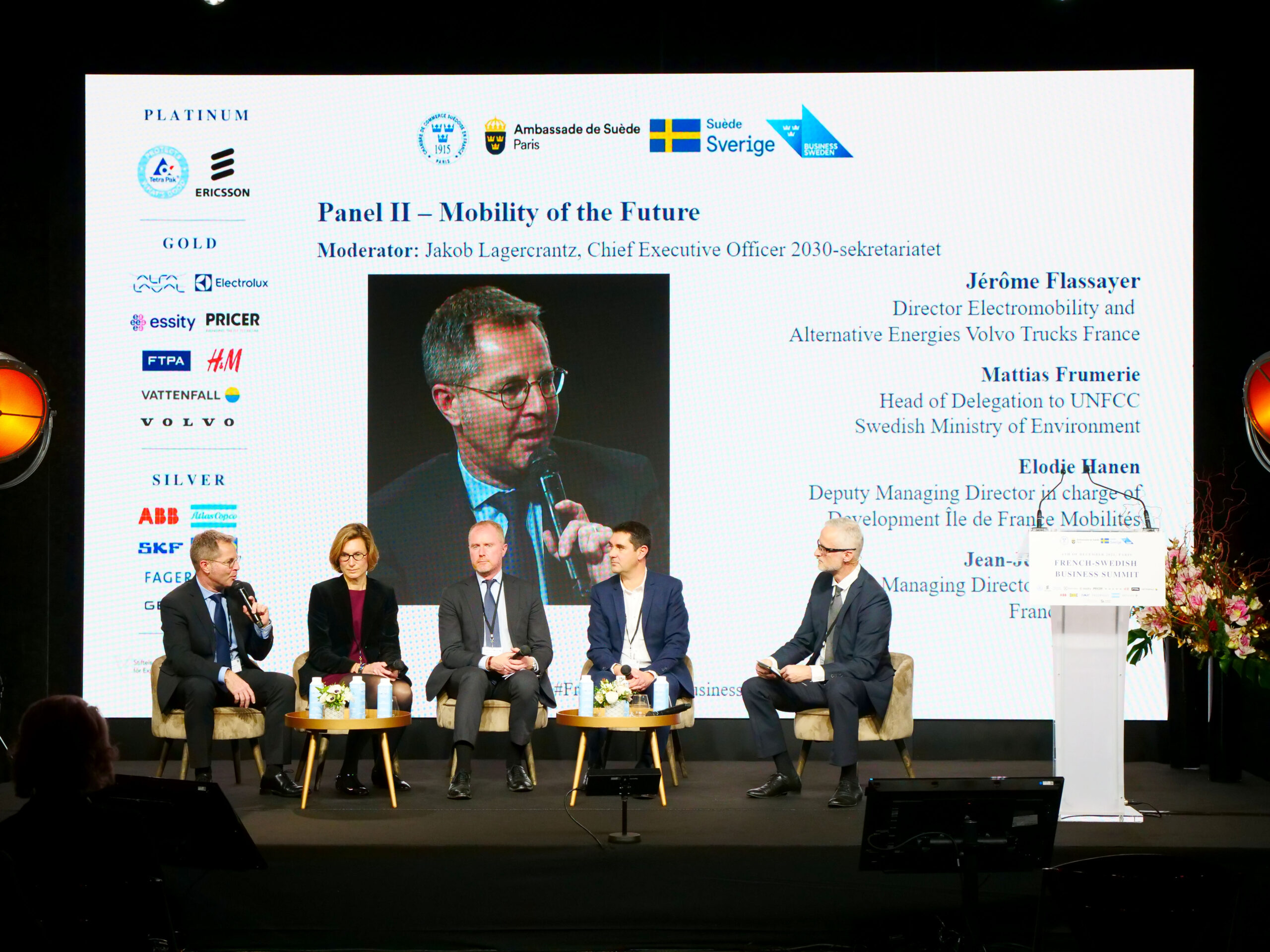 Introduction: Bernard Tabary, Chief Executive Officer International, Keolis
Moderator: Jakob Lagercrantz, Co-Founder and CEO 2030-sekretariatet
Jérôme Flassayer, Director Electromobility and Alternative Energies, Volvo Trucks France
Mattias Frumerie, Head of Delegation to UNFCCC, Swedish Ministry of Environment
Elodie Hanen, Deputy Managing Director in charge of Development, Ile de France Mobilités
Jean-Jerôme Semat, Managing Director Alfa Laval France & NWA
Panel Discussion 3 – 5G as Platform for the Green Transition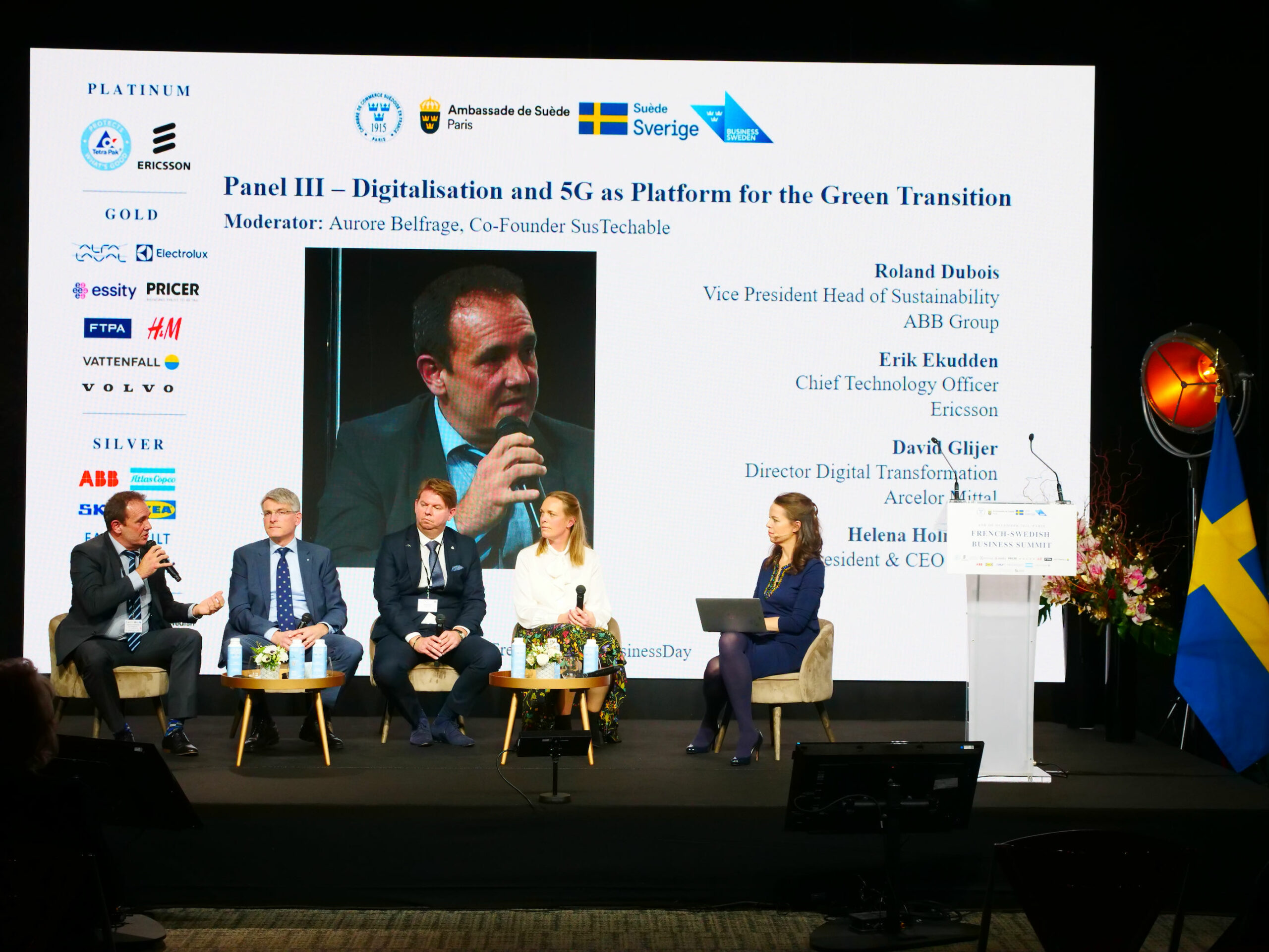 Moderator: Aurore Belfrage, Co-Founder SusTechable
Roland Dubois, Vice President Head of Sustainability, ABB Group
Erik Ekudden, Chief Technology Officer, Ericsson
David Glijer, Director Digital Transformation ArcelorMittal
Helena Holmgren, CEO Pricer AB
French-Swedish Tech & Innovation Exhibition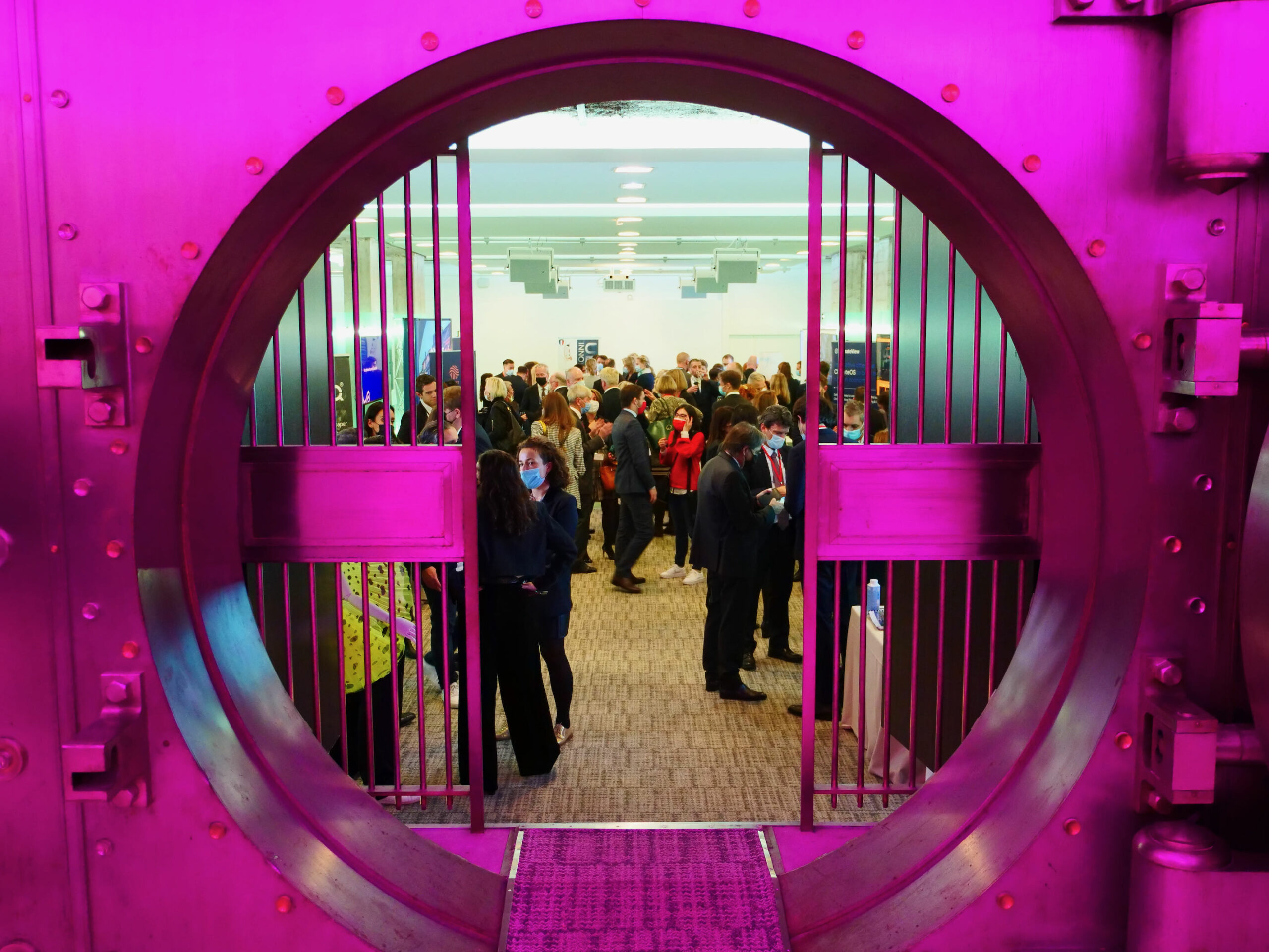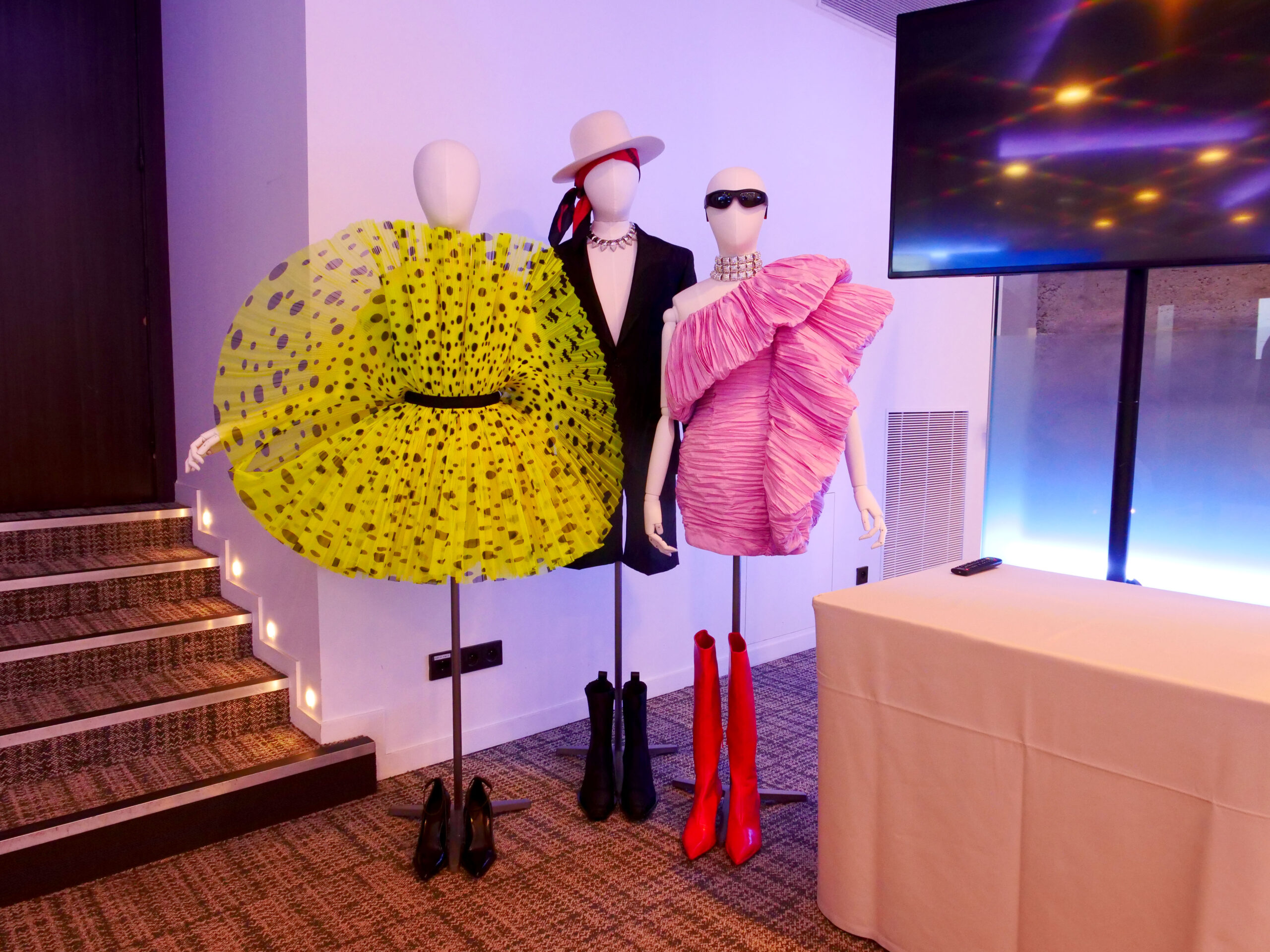 The French-Swedish Business Summit was followed by an interactive Tech & Innovation Exhibition, with a special focus on innovation, co-creation and creative solutions developed by companies, entrepreneurs and by collaborations between start-ups and large companies. The networking platform included meetings, demos, impact and discussions with passionate tech entrepreneurs and innovation stakeholders from Sweden and France.
Soirée Franco-Suédoise
The conference and French-Swedish Tech & Innovation Exhibition were followed by the prestigious Soirée Franco-Suédoise with the award of Prix d'Excellence 2021, organized by Chambre de Commerce Suédoise en France. The evening was devoted to enterprises from the French-Swedish business community. Among the guests were high-level representatives from countries' economic, cultural and political spheres.
In partnerhsip with Electrolux, we were delighted to feature the Swedish top chef Paul Svensson, world renowned for his innovative gastronomy as part of saving our planet and his passion for zero food waste. He offered a true green gastronomic experience at Soirée Franco-Suédoise.
The focus for this year was the green transformation, innovations, challenges and solutions for companies from the traditional industrial world and start-ups of the new economy. Our five invited start-up companies where &Repeat, ClimateView, Elonroad and Quizrr. They all held a start-up pitch on stage.
The evening concluded with Sankta Lucia, one of the finest Swedish traditions, rich in both mysteries and signs. It was beautifully carried out by the choir of the Swedish Church in Paris under the direction of Björn Åkerhage.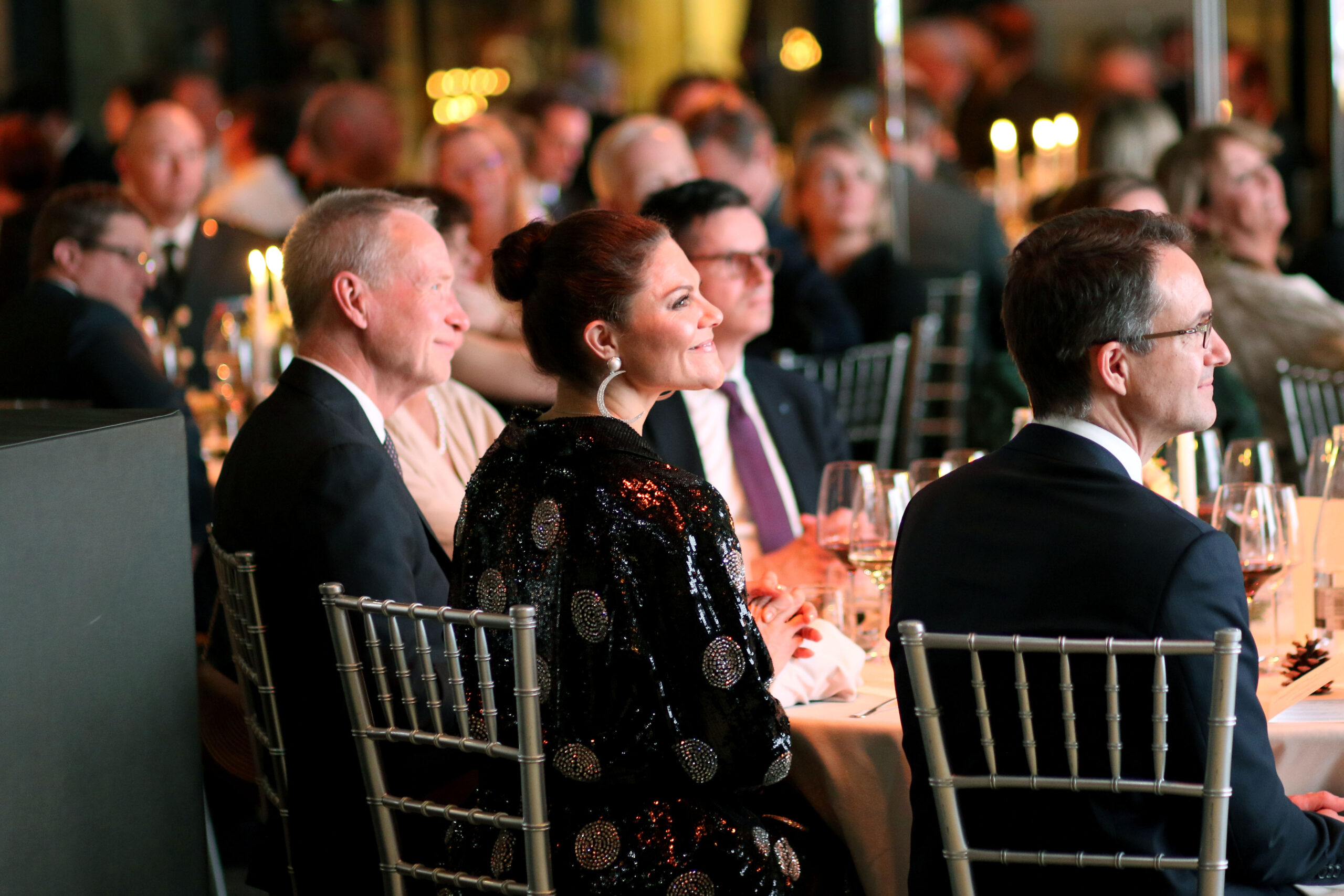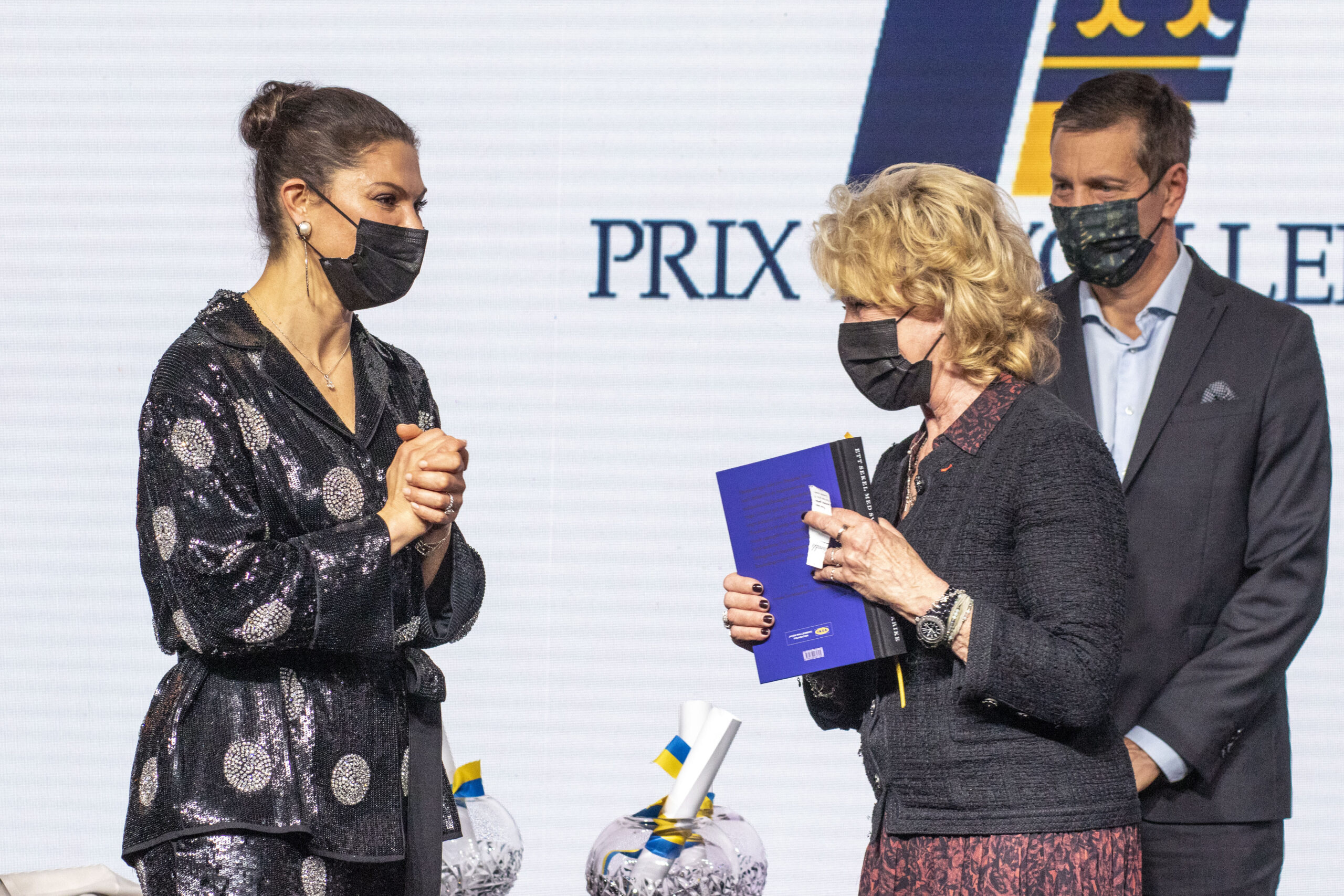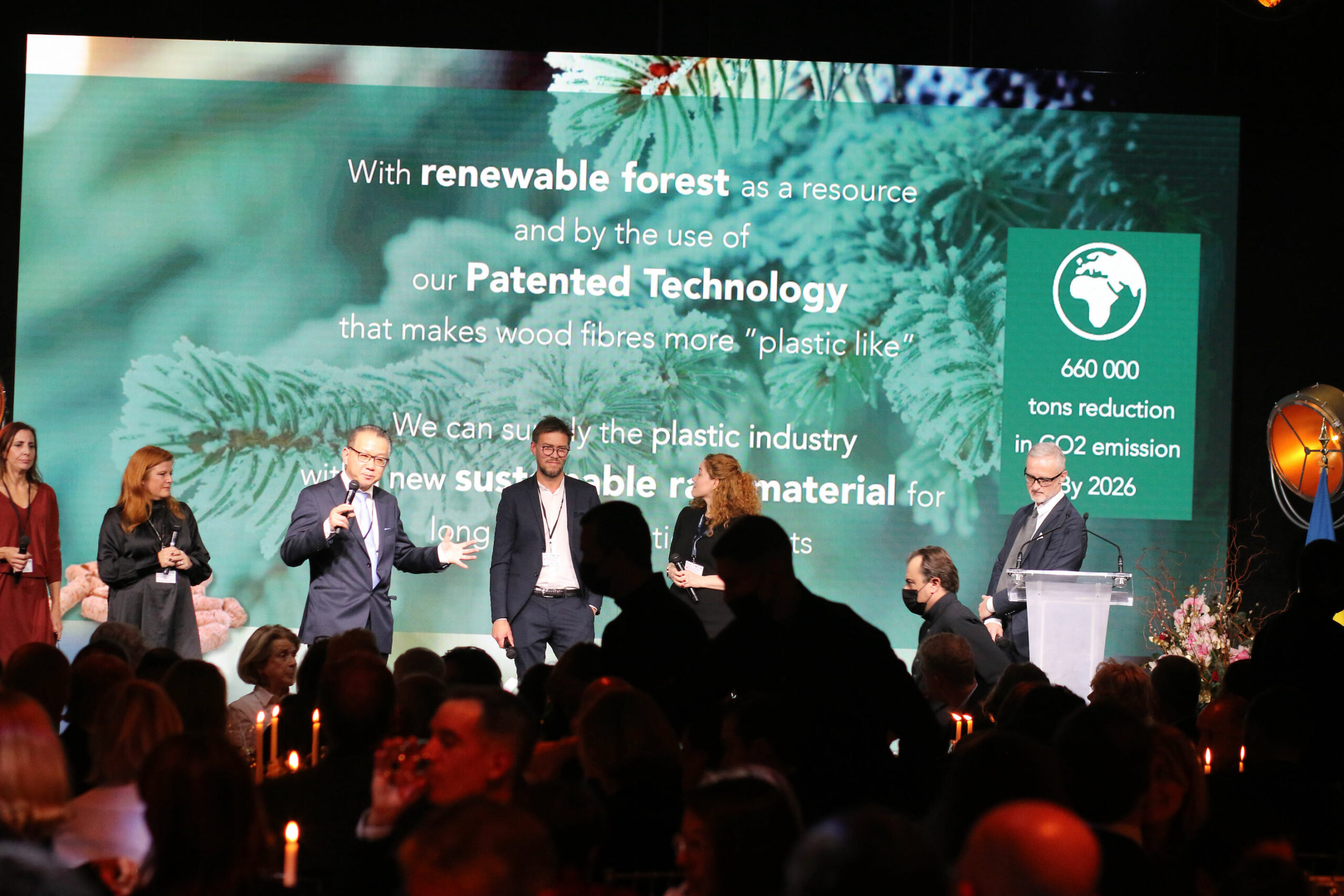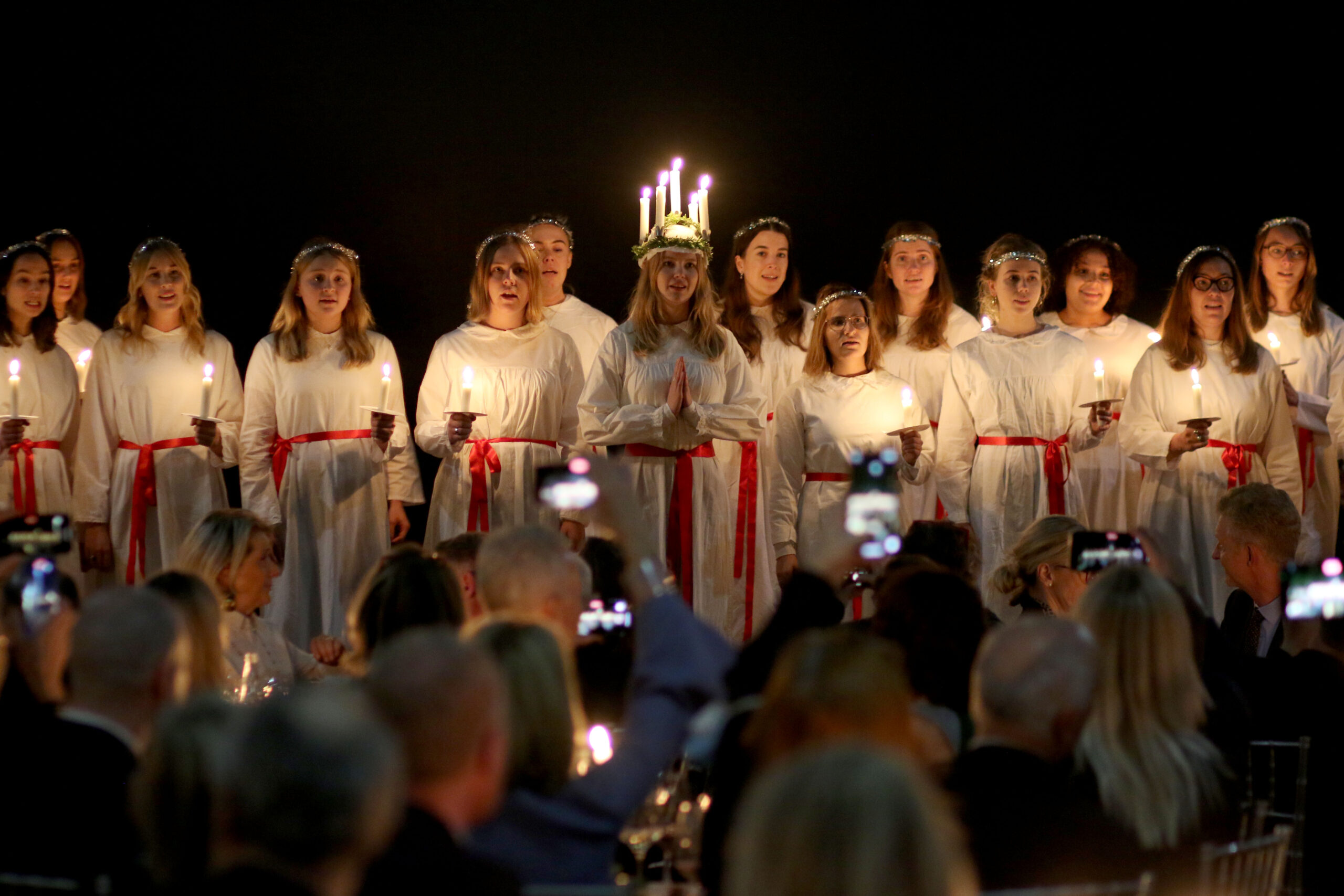 For more photos, click here